Thundershirt Calming Cap
Reduces Visual Stimuli to Calm Dogs
The Gentle Leader Calming Cap is a behaviour management aid that has been designed to lessen a dog's anxiety or aggression in high-stress situations.  The Calming Caps single-panel sheer window does not blind your dog it simply limits your dog's vision and enables them to stay calm.  Your dog will still be able to make out shapes so it won't be bumping into you or the furniture. The cap connects to the dog's collar with Velcro straps and the elastic ring that surrounds the muzzle is not restrictive, making it easy to put on and take off.
Gentle Leader Calming Cap Sizes
Petite Calming Cap - most toy breeds, puppies
Small Calming Cap - Shelties, most small Terriers, etc.
Medium Calming Cap - Cattle Dogs & Labradors, etc.  
Large Calming Cap - Mountain Dogs, larger German Shepherds & Rotties, etc.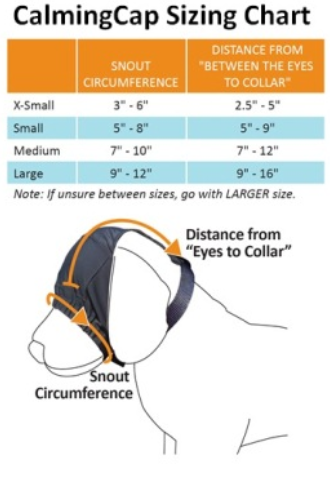 Originally developed to make car trips more tolerable for an agitated dog, the Calming cap can assist pet owners and professionals in a variety of situations:
Car Travel

Visits to the Vet (Injections)

Grooming (Nail Clipping)

desensitization and separation anxiety program
The Calming Cap is designed to help reduce your dog's anxiety level in stressful situations. Sometimes, the situation may require professional support. We recommend talking to a behaviourist or a qualified trainer, who may provide additional assistance in reducing your dog's anxious behaviour.
The Thundershirt Calming Cap comes with complete instructions for proper use.

Important: The Calming Cap will not be effective on all dogs.